Trunnion & Arbor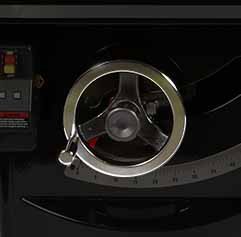 Heavy weight cast iron trunnion & arbor ensures a smooth cut with less vibration
Control Box
The control box houses the on-off switch, power paddle, and the on-board computer. This is key to the safety system's reliability, as it double checks that all safety systems are working.
Overarm Dust Collection
Available Overarm dust collection routes dust away from the blade and into your 4" port.
T-Glide Fence & Rail
T-Glide Fence & Rail are made of heavy gauge steel for sure lockdown and reliably sqaure cutting for years without deflection.
Extension Table and Rails
The extension Table and Rails are available in 36" and 52" rip capacities
99% Dust Collection

99% Dust collection above and below the table keeps the shop cleaner and the workers safer.