The STRIEBIG COMPACT is flexible and economical to use. It is the entry-level into the precision and quality world of vertical STRIEBIG panel saws and offers all important features for precise results in wood processing.
The manual entry-level class fulfills all wishes. The COMPACT model has a comprehensive size grid and covers the cutting area from 3100×1644 mm (model 4164) to 5350×2200 mm (model 6220). The choice is yours.
Highlights:
The saw beam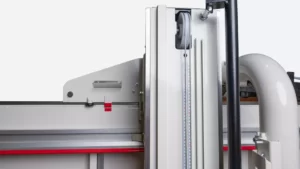 Guarantee of angular accuracy and solidness: The steel construction of the saw beam is particularly stable and durable. Its twin interlocking mechanism ensures perfect angular accuracy.
The saw unit
The engine: strong and powerful, 3.9 kW (5.3 HP). The guide: backlash-free and smooth-running. In conjunction with the robust bearing of the motor carriage, this guarantees easy and precise work for years.
The saw frame
Precision thanks to stability. Upper guide rail, central support and roller support are perfectly parallel to each other. This guarantees you many years of cutting precision and a high-level of investment security.