10 Position Tool Changer
10-Position Automatic Tool Changer
The 10-position automatic tool changing system on the machine enables quick deposit and pickup of tools during cycles. This system releases the operator from interacting with the machine at any time during machining.
Phenolic Worktable
The phenolic worktable provides a working surface for machining. Durable and flexible, the worktable is separated into independent work areas that allow the operator to position the workpieces in any region of table.
Heavy Duty Frame
Steel Frame 
Patriot line features an all-steel frame and is manufactured in-house at our manufacturing facility in Colorado Springs, Colorado. The welded steel frame guarantees the highest level of rigidity and durability.
Hiteco Electrospindle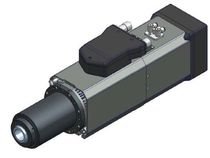 Hiteco 7.5kW (10HP) Electrospindle 
The FMT Patriot is equipped with an electro spindle motor from Hiteco, a world leader in spindle technologies. The 7.5kW rated motor has all the power needed to maintain the highest levels of accuracy and repeatability while cutting a variety of materials.